Here are all those groovy terms that hippies use and what they mean, starting with the letter A, and click on link for entire list !
http://www.hippy.com/glossary-c.htm
1-A: Status determined by draft board that you are currently fit and available to serve in the military.
1-O: See Conscientious Objector.
4-F: Exemption from military service due to mental or physical disability.

2001 - A Space Odyssey: Written by Arthur C Clarke. The movie was directed by Stanley Kubrick. It was touted as "the ultimate trip" in this poster. And many people took those words to heart as this was indeed a great trip. Man's evolution is directed to the stars by strange black obelisks. Hal, the irrepressible silicon concierge is up to his tricks in interplanetary hijinks. The special effects are now classics.
Acapulco Gold: Legendary Mexican marijuana from the 60s. Today it wouldn't be considered so special, but back then it was great!
Acid: see LSD.
Acid Tests: Ken Kesey and the Merry Pranksters did the first Acid Tests. These were events were everyone dropped acid together for an extraordinary group experience. Tom Wolfe wrote The Electric Kool-Aid Acid Test about the experiences of Ken Kesey the Merry Pranksters.
Activist: A person who participates in protest actions. Anyone involved in a cause, usually political.
Afterglow: A state of peace that can follow after a psychedelic experience when your mind is still detached from worldly concerns. "He's bathing in the afterglow of his last LSD trip".
Agnew, Spiro T.: Vice President during Nixon's reign, he antagonized almost everyone but expecially liberals with his verbal rantings. He claimed the antiwar movement was the work of "an effete corps of impudent snobs." He survived a bribery scandal but was convicted of income tax evasion he was forced to resign much to everyone's delight. Recently declassifed FBI files show Agnew did receive hundreds of thousands of dollars in kickbacks as Govenor and Vice President.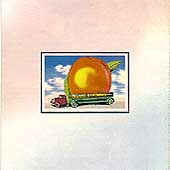 Allman Brothers: Southern rock Band popular in the early 70s, played the Fillmore. Midnight Rider, Melissa, Ramblin' Man some of their hits.
Altamont: Controversial, ill fated rock concert headlined by the Rolling Stones and Jefferson Airplane at Altamont Speedway on Dec.24, 1969. Hells Angels, acting as security, had their hands full as people kept rushing the stage. One man pulled a gun, and the Angels killed him. The film "Gimme Shelter" documenting the concert was used in evidence to clear the Angels.
Antiwar Movement: The organized resistance by students, veterans and other activists against the draft and Vietnam War in the 1960s and early '70s. Rallies, marches, speeches, teach-ins, sit-ins, slogans, banners, and songs were some of the non-violent tactics used to get the message out.
Asanas: Sanskrit word. A series of body postures that stretch and tone muscles, increase endurance, and improve flexibility. Along with breathing and meditation they make up the practice of Hatha Yoga.
Ashram: A monastery where monks practice yoga.
Astral Plane: A dimension of existence beyond the physical world. A place where disembodied spirits dwell. Many attempt to contact the astral plane through meditation or by using psychic energy.
Babe: Affecti